Pittsburgh Security Lighting Installation
And Services
Highest Quality Security Lighting Installation Pittsburgh
Several year ago, many Pittsburgh businesses and families would have installed large, bright, glare-promoting globe style lights, or selectively placed flood lights to attempt to prevent criminals from entering their property at night. We have learned over the years from several studies that over-lighting the side of your house or backyard does little to deter and may assist criminals in finding easier access to them places. For security lighting to work properly, is strategic placement and directing the flood lights or spotlights where they will startle intruder, while also alerting you to their activity and presence. Our Pittsburgh-PA electricians specialize in installing security lighting setups designed specifically for your home. We know how to evaluate where and how to install a successful crime prevention lighting pattern.
Things To Keep In Mind About Security Lighting
With over 100 different makes and models of security lights on the market today, it's important to select the correct model for your home. Some models have more features then you may need, some may have less. Tatman Electric is one of the best Pittsburgh electricians and will make sure you have everything needed to reduce as much risk as possible. 
•Firstly, criminals prefer places that are dark so they can conceal themselves and not be noticed if you come out and look for them. In addition, some normal areas around bushes, shrubs, and any areas that makes it difficult for a homeowner to spot them.   Strategically placed, motion-sensing spotlights and flood lights can make these areas useless to criminals.
•Secondly, many security lights on the market today come with a manual override switch that allows the homeowner to switch off the motion sensor if the light keeps coming on for no reason. However, realizing that often criminals can use this tactic to their advantage, contact Tatman Electric for all your Pittsburgh security lighting installation needs. Our highly trained professionals can increase your odds of out thinking intruders.
•Thirdly, a successful strategy for security lighting is to install a energy efficient 2-head flood lights with a sensitivity-configurable motion detector and photo cell. The photocell reduces energy consumption by only allowing the light to power on at dark and motion sensor only trips when it senses movement.
•Finally, newer models of motion-sensing spotlights and flood lights are being manufactured with sensitivity settings that can control the powering on. Also, many of the newer lights are able to recognize the type of object passing it as well.
Pittsburgh Commercial Security Lighting
When your Pittsburgh business is closed for the night, you want to make sure it is safe and secure. Commercial security lighting can help. Tatman Electric has installed hundreds of commercial security lighting systems for businesses in Pittsburgh, Pennsylvania, and all Western Pennsylvania.
Our team of expert Pittsburgh commercial electricians have worked with restaurants, corporate office buildings, retail shops, and a large variety of commercial property owners. All the commercial property owners/managers needed commercial security lighting installation services that were reliable, safe and cost effective.
Pittsburgh-PA Commercial security lights offer several advantages. Having a properly lit outdoor area can deter criminals from breaking in or vandalizing your Pittsburgh commercial property. It can keep nocturnal pests such as racoons or possums away. High quality commercial security lights can be strategically placed around your commercial property to eliminate the dark areas criminals like to utilize. Tatman Electric experienced electricians can help with the layout, also help keep you and your customers safe. Unlike many commercial security light installation companies in Pittsburgh, we don't charge for design services EVER!
Our goal is to determine what type of commercial security lighting your business needs. In addition, provide you with the best possible solution to keep your property and most importantly employees safe. Contact Tatman Electric today for your free no obligation Pittsburgh commercial security lighting quote. CONTACT US NOW!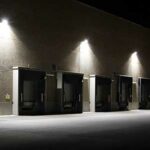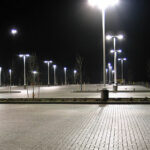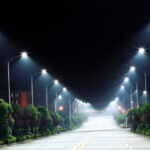 Energy Efficient Security Lighting
When thinking about have security lights installed on your home, it's important to factor in the additional costs of running and maintaining the security lights. Tatman Electric utilizes efficient LED technology, saving up to 80% on energy cost and lasting up to 25 times longer than incandescent lighting. Also, our goal is to provide not only the best electrician services in Pittsburgh-PA but to save our customers as much money as possible.