5 Tips For Having An Electric Panel Upgrade
Is 200 amps the new standard for Pittsburgh residential electrical service? How would you describe the typical electrical service standard for new or remodeled houses in Pittsburgh-PA? It's important to have the equipment installed when having an electric panel upgrade on your Pittsburgh home.
The National Electrical Code (NEC) governs the size of the electrical panel for new homes or remodeled homes. Also, there are several versions of the NEC. In addition, it's important to use an experienced Pittsburgh electrician that is familiar with the local building codes.
If you have been considering doing some electrical work on your house, please exercise caution before doing so. Importantly, electrical work is dangerous and not for the novice do-it-yourselfer. Furthermore, it's definitely possible for a novice to add an outlet or replace a switch, completing anything more probably means hiring a licensed Pittsburgh-PA electrician. In addition, they'll be able to pull the electrical permits and schedule inspections to assure compliance on your electric panel upgrade.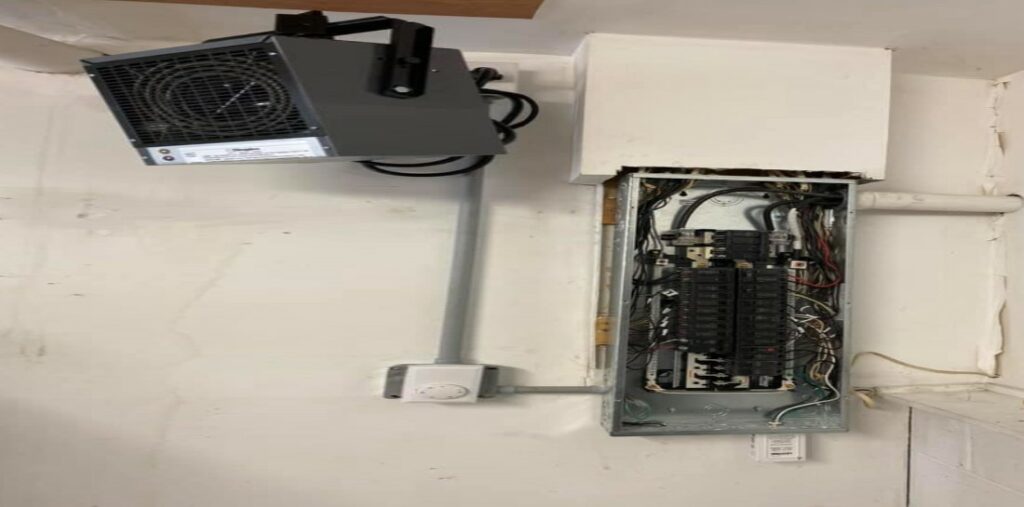 Modern Homes Electric Panels
Many modern Pittsburgh homes use several energy consuming appliances, a 200-amp panel is the minimum suggested by many Pittsburgh-PA electricians. Mainly because this size electric panel will adequately serve an average home, allowing room for upgrades in the future if needed. The total amperage of the branch circuit breakers serving the house should not exceed the amperage of the panel.
The load needed to serve the electrical demands of the appliances in the home dictates electric panel size. Also, appliances such as electric stoves, ovens, dryers and air conditioners, can quickly occupy the panel space completely. Residential LED lights and most outlets can be run on a single circuit. But stoves, ovens, dryers and ac units are required to have a dedicated circuit.
Factors To Consider When Having An Electric Panel Upgrade in Pittsburgh-PA
Listed below are things to keep in mind when thinking about the electrical requirements for your Pittsburgh home.
1. Size of Wire is counterintuitive. The larger the gauge number, the smaller in diameter the wire. In addition, larger wires can handle a greater load safely without causing a fire.
2. Different colored wires. The black wire is the "live or hot" wire; the white wire is the neutral wire; and the bare wire is the ground wire. It's typically suitable for loads up to 15 amps. Also, normal household items like vacuums and lamps operate fine on this amperage. Most Pittsburgh houses plug circuits are wired with 14-2 Romex that supply no more than eight outlets per circuit. Finally, depending on the intended usage, a few less plugs per circuit could be utilized.
3. Typically, outlets in the kitchen and dining room should be 20-amp circuits wired differently. This is because these circuits will likely take appliances that draw greater amperage.
4. Outlets and switches that are located close to source of water should be protected by a ground fault circuit interrupter (GFCI). A GFCI breaks the circuit even when the tiniest amount of water is present and prevent shock or fire. In addition, GFCI should be used in garages, outdoors and bathrooms.
5. Importantly, correctly sizing circuit breakers for the wire size they serve. Also, if a 14-2 cable is run from the panel to the outlet, then a 15-amp circuit breaker is the largest that can be used to protect that circuit. If a 12-2 cable is run from the panel to the outlet, then a-20-amp circuit breaker is the largest that can be used to protect the circuit
In Conclusion
Many years ago, Pittsburgh homes used fuses that were commonly replaced with the amperage fuse by homeowners that didn't know any better. It resulted in many wires overheating and causing a fire. Select a experienced and knowledgeable electrician to complete your electric panel upgrade Pittsburgh-PA, choose Tatman Electric! A family owned and operated with over 20 years' experience. Contact Tatman Electric today for a free no-obligation quote, call (412) 855-1087, email [email protected] or visit https://www.electricianspittsburgh.com