The Importance of Exterior Lighting For Your Pittsburgh Home
The Importance of Exterior Lighting For Your Pittsburgh Home
There are several reasons why adding exterior outdoor lighting to your property is a great idea. In addition, it can help you decide whether additional exterior lighting on your property is the right decision for you. Below are some things to take in consideration when making your decision.
Safety: LED Exterior lighting is great for home safety, but you might want to add to what youu have with details like walkway lighting. In addition, preventing injuries is a main part of the reason you may want to add additional LED Exterior Lighting, helping reduce the risk of someone slipping and falling on your property and you being left responsible for it. Also, additional lighting to areas that receive high traffic such as, around decks, pools, or any outdoor seating area.
Security: Pittsburgh Homeowners sometime underestimate the value of exterior lighting for helping as an additional security measure. In addition, keeping in mind that a criminal is looking for a property to burglarize that is not going to be detected. Also, obviously a Pittsburgh home well lit up with exterior LED security lights may not be the best candidate for them to attempt anything. The best part about modern LED Exterior Security Lighting is that your able to set it as you wish, from constantly being on to motion, both can help deter criminal activity.
Property Value: Every time you invest into your Pittsburgh home to improvement, it typically increases the property value. Even though it may not be a huge increase, the increase will cover the additional expenses of having the exterior light installed if you decide to sell.
Decor: The right choice of LED exterior lighting can become part of the homes landscaping. It will allow you to display different aspects of your landscaping design. In addition, highlighting certain landscaping details like trees or waterfalls can completely transform the way your property looks at night.
Curb Appeal: The correct lighting showcases what you want seen, the correct placement can take the focus from features of your home that you don't wish to showcase. Also, many landscapers incorporate lighting in their landscape designs so at night it focuses attention to the areas you want. Most of the Pittsburgh-PA electricians will help you to determine where the best placement is based on you telling your desired outcome.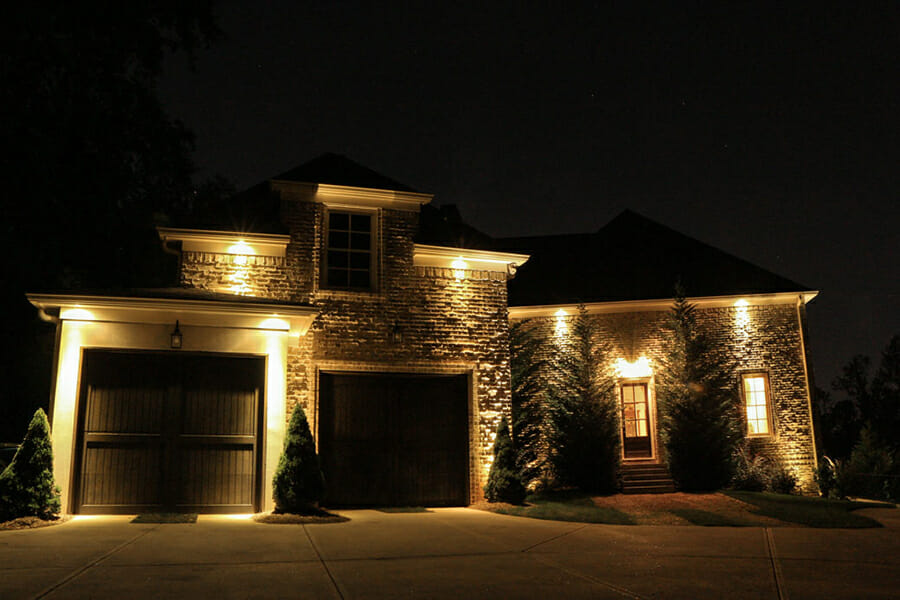 Energy Efficient LED Exterior Lighting
One of the best parts of adding additional LED exterior Lighting is that you can make it completely ecofriendly. Also, there are plenty of options available for energy-efficient lighting choices when designing your landscape lighting. In addition, LEDs consume less power as compared to CFL or Incandescent bulbs for same light requirements because it uses most energy efficient semiconductor electronic technology to produce light. Which means we can replace the 60 Watts Incandescent bulb with a 14 Watts CFL bulb or with a 7 Watts LED lamp.
In Conclusion On Additional Exterior Lighting
There are several beneficial reasons to add exterior lighting to your Pittsburgh home, but these are some of the most significant ones. Locating the best Pittsburgh electrician to assist you in planning out your lighting so that you can be confident that your project is done correctly and that you have a warranty on the work that is completed. Tatman Electric is Pittsburgh-PA's Best Electricians providing warranties and a 100% customer satisfaction guarantee. Contact Tatman Electric Today For Your Free no-obligation quote! (412) 855-1087 or [email protected]